Why struggle wrapping awkwardly shaped presents when you could just put them in a beautiful Christmas gift box or bag instead?Shop for Christmas gift boxes at Detai.Make your gift look extra festive with our color Santa christmas gift boxes. These present boxes will fit perfectly at your christmas gathering.Covering your present with tissue paper,then decorate the box with a ribbon or bow.Among our new Christmas packaging collections,a fan favoriate is already starting to emerge.These rigid bottom and lid style boxes evokes the emotion of a simpler time and will give your customers the warm feelings.

Large Colorful Christmas Gift Box
Gift Box measures 25*25*25cm

Great for holding big-sized gifts like flower packging

ideal for a Christmas party or other holiday party

Combine with other Colorful Santa Christmas party supplies
Medium Quality Christmas Gift Box
Paper Box measures 20*20*20cm

Great for holding medium-sized gifts

2 piece gift box is good for other packing like toy packing

These gift box assortment is perfect for all your gifting needs this Christmas
Small Paper Christmas Gift Box
Small 2 piece Box measures 15*15*15cm

Great for holding small-sized gifts

Bottom and Lid style gift box is a good impression of your company

It also can be used for packing other small gifts like candy packing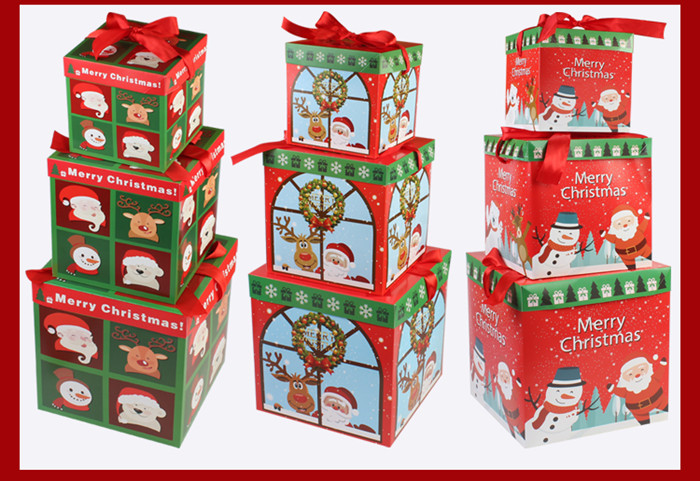 Here are more designs for your reference and custom made boxes are welcome.These bottom and lid style gift boxes are widely used for all gift packaging.It shows your respect and love,the receivers will be happy to get such a big surprise.For business,sales will greatly pick up at the second half year,an attractive gift package will inrease the value of inside products and make a good inpression of your company and brand.Start get your own packages!